Residential Solar Power
Notes on the basic science, typical components and sample configurations of residential solar installations.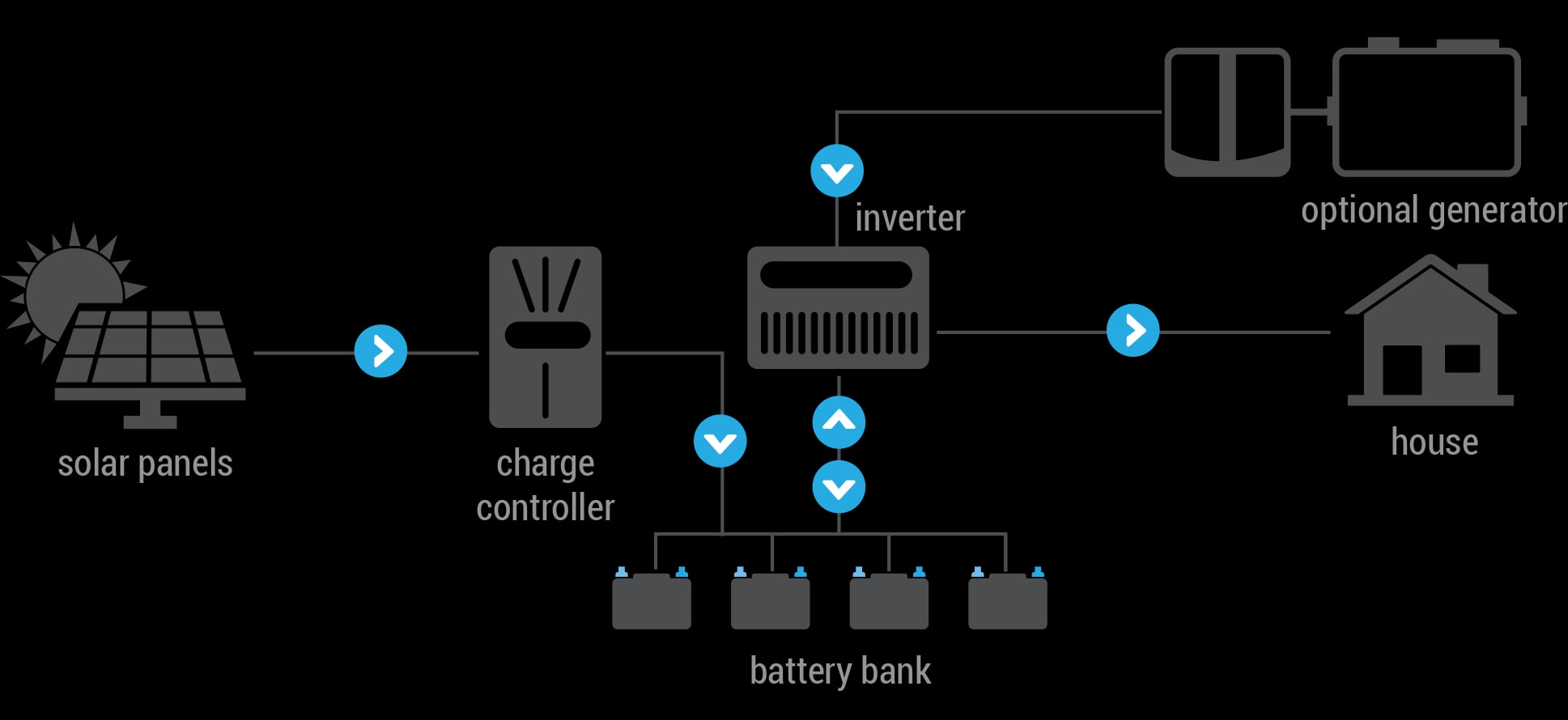 The components of a basic off-grid system are as follows:
Solar panels convert sunlight to electricity and output DC power.
Charge controller takes DC power from panels, and regulates output.
Battery bank takes regulated DC output from controller, charges batteries, and outputs DC. Best Solar Charge Controllers
Backup generator (e.g. gasoline), also ouputs DC to the inverter. Honda's generators are well-regarded. The Ultra-Quiet 2200i weighs 46lbs, runs 8.1 hours on a single 3.6 litre tank, which costs $4.60 at Nov 2019 Vancouver gas prices of $1.30, and outputs max 2,200 watts (1,800 continuous) at 120 VAC.
Transfer switch switches two sources of power. In our case: the battery bank and generator. Transfer switches can be manual or automatic (e.g. switch to generator when batteries are depleted).
Inverter takes 12 volt DC from battery bank, and outputs 120 volts AC, which is what home appliances run on.
AC load center helps organize load across different outlets and devices.
Home appliances plug into the outlets.
For top-rated panels, see: Best selling panels in California for 2018.
A south facing roof is best (assuming you're in the northern hemisphere). East and west facing are good. North facing is just OK. Optimal angle is 45°. Per Energyhub.org.
Clouds are fine.

"Ironically, solar panel kits work best under cold and cloudy conditions with full sun. This is because temperature af fects the efficiency of a solar panel; a 100-watt panel at room temperature will be become an 83-watt panel in 110 degrees." - Best Solar Charge Controllers

Doubling your batteries gives redundancy for a critical-component.
Lithium Ion batteries: Lighter and cheaper than lead acid. "Because of the better efficiency and deeper discharge depth, Lithium battery banks tend to be only 50-60% of the size of a comparable lead acid bank!" Off-Grid Battery Bank Sizing
Solar-optimized charge controller: Cheap charge controllers only prevent batteries from overcharging. A charge controller designed for solar (e.g. a Maximum Power Point Tracking (MPPT) controller) provides more efficiency by better resolving the delta between the voltage of the solar panels and the batteries. See: Best Solar Charge Controllers.
Pure sine-wave inverter: is better for your electronics.
Motors draw significantly more power during the first few seconds of operation: Can easily be 3x. So buy inverters that have more wattage than you think you need. Some also have two ratings: "surge" and "continuous".
The simple formula for estimating a solar system is as follows:
(

Yearly kWh Usage ÷ 

365

 days ÷ average sun hours

)

 x 

1.15

 efficiency factor 

=

 DC solar array size required.
To date, my studio apartment's average kWh consumption has been: 110 kWh/month. That includes a fridge, dishwasher, washer/dryer, electronics, lights, etc. Times 12 months, that's 1320 kWh/year.
I'm assuming 3.5 average hours sunlight for Vancouver. That's the same value as Seattle. ClimaTemps claims an average of 5:01 hours sunlight per day, taking into account historical weather and variations in length of day by season. But I'll go with the more conservative 3.5 estimate.
With those figures, I get the following:
(

1320

 ÷ 

365

 ÷ 

3.5

)

 x 

1.15

 

=

 

1.18

 kW
If I used SunPower SPR-X21-335-BLK-D-AC panels (335 W, 21% efficiency), I could use 4 panels x 335W = 1340 watts.
Those panels look to go for about $1 USD per watt, so that's $1340 USD for the panels. Then there are the costs of other system components and installation.
1 watt, flowing for 1 hour = 1 watt hour (Wh).

40W lightbulb on for 8 hours = 320Wh

1000Wh = 1 kilowatt hour (kWh). This is what our utilities are billed in.

1000W microwave on for 8 hours = 8000Wh = 8kWh

Amps x Volts = Watt.

Fridge runnning at 127V and 2.4A = 305W.
Using water pipe analogy, volts are water pressure, amps are flow through the pipe, adn watts are what we can do with that energy (e.g. turn a water wheel)

Batteries are rated in watt hours

Yeti 400 battery is 396 Wh. It's 12 volts x 33 Amp hours = 396Wh.
A 100W lightbulb would last four hours.

Solar panels are measured in watts.
The power draw of portable Macs can be found in System Information > Power > AC Charger Information.
| Device | Watts |
| --- | --- |
| LED light bulb. E.g. G9 dimmable | 4.5 |
| 55" LED TV. E.g. Vizio P55-F1 | 172 (0.5 standby) |
| MacBook Pro | 86 |
| Freezer. E.g. 115 VAC, 5A draw (2x at peak). | 575 |
In 2019, my average monthly kWh consumption has been 110 kWh.
| Device | kWh / year |
| --- | --- |
| Gaming PC (with display) | 1400 |
| Gaming console | 134 |
| Average household PC | 246 |
| Fridge. E.g. Kitchen Aid KBRS22KVSS4 | 459 |